AURP Response:

Federal Technology Transfer Authorities & Processes ROI Initiative
Representing over 700 university and community-based research parks and innovation zones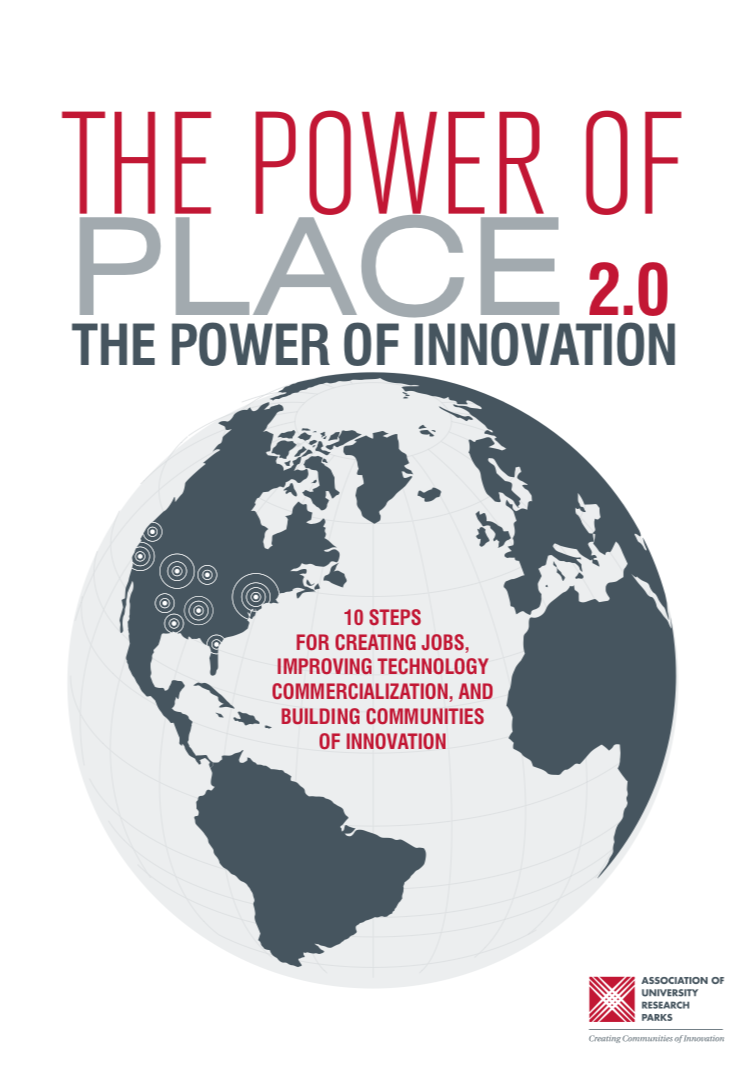 worldwide, AURP's recommendations for improvements to federal laws, regulations and practices to increase the economic impact of federally sponsored research included the AURP White Paper: AURP Power of Place 2.0.
AURP shares NIST's interest in developing procedures and policies to increase the economic impact offederal research. Federal labs are partners in many U.S. research parks and university startup firms developed from federally funded research frequently choose to locate in university research parks. Read more.

Meet Up with Mason: Guest Charlie D'Agostino
Recently, Mason Ailstock, AURP President, sat down with Charlie D'Agostino, Executive Director of the LSU Research Park and Louisiana Business & Technology Center, to share the wisdom and success of student incubators in your university research park. WATCH HERE.
AURP ANNUAL BUSINESS MEETING - STATE OF THE ASSOCIATION ADDRESS
AURP is going virtual with this year's "State of the Association" address!
Wednesday, October 3rd, 11:00 am – 12:00 pm EDT
Mark your calendar to participate in this MEMBERS' ONLY event on
Wednesday, October 3
rd
, 11:00 am – 12:00 pm EDT
to hear about the health and growth of AURP this past year, plus learn about the new programs coming up, such as the
Innovation Passport Program
– a
member's only program
, connecting your tenants to global markets by accessing the powerful AURP network! Watch for more information to RSVP for this special
live
AURP Annual Business Meeting.
ROI Research on Investment to work with the Association of University Research Parks as investment attraction Knowledge Partner
Tucson, AZ, May 22nd, 2018 - ROI Research on Investment (ROI), an award winning global authority on investment attraction for economic development organizations, today announced that it will become the Investment Attraction Knowledge Partner of the Association of University Research Parks (AURP). Initially, ROI will host a sereis of webinars and training sessions to AURP membership on topics including: best practices related to lead generation, business development, benchmark assessment/value proposition formulation, cluster targeting and digital marketing. Read more
Regional Innovation Letters of Support
AURP is proud to support the Regional Innovation Program in 2019! Below are two letters written to the House and Senate supporting efforts to increase the funding for the Regional Innovation Program to $50 Million in 2019. Click the thumbnails to learn more!
Regional Innovation Program Awarded $21 Million
On Friday, March 23rd, President Trump signed into law a $1.3 billion federal funding bill, which will fund the government through the end of September 2018 (when Fiscal Year 2018 ends). The Association of University Research Parks is very pleased to announce that in this bi-partisan funding bill was a major increase in the Commerce Department's Regional Innovation (RI) Program. The RI Program will be funded at $21 million in 2018, a $4 million dollar increase over 2017 level. This is the largest increase in 2 years for the RI Program, and the highest funding appropriation in the program's history.
Commerce's RI Program—administered by the Economic Development Administration (EDA)—is an initiative that supports innovation-driving activities through state, regional and local entities to utilize existing resources, collaboration and continued support of economic recovery. These efforts are focused in high-growth industries by supporting local organizations to drive the transition of research out of labs and into the commercial marketplace. Applicants for the 1:1 matchedRI Programawards have included nonprofits, institutions of higher education, and entrepreneurship-focused organizations.
This increase in the RI Program is due in large part by federal advocacy efforts of AURP membership. On February 27th, several of our AURP members joined the Innovation Advocacy Council (IAC), of which AURP is a member, for a day of meetings with legislators on Capitol Hill. They lobbied dozens of members of Congress in support of a funding increase for the RI Program. This effort was also bolstered by many AURP members writing their respective members of Congress requesting they champion the RI Program.
The FY19 appropriations process is now currently underway. AURP membership looks forward to taking action in support the RI Program in 2019, including participating in the IAC's ongoing congressional engagement for another appropriations increase in 2019.
AURP Peer2Peer Networking groups help professionals in the university-based incubator and tech park industry share challenges and lessons learned in a friendly, informal environment. Peer2Peer groups meet monthly and provide an opportunity for individuals in similar roles and functions to exchange recommendations, best-practices and ideas to utilize AURP's best resources: it's own members. Championed by both the Board and Advisory Council members for its flexibility, each Peer2Peer group is able to determine the format that best suits the members of the group, including possible guest speakers, special topics and roundtables.
Thank you so much to attendees, sponsors, and speakers for a fantastic Spring Training in Tempe! The conference kicked off with our Board of Directors' Sponsor Appreciation Dinner where attendees mixed and mingled and showed off their competitive side with a few rounds of ping pong and corn hole - all while networking! Our master classes led by experts in the industry sparked great conversation and interactions amongst attendees, and everyone took advantage of the warm weather to enjoy a hike up A-Mountain, and take in a Spring Training baseball game. A fantastic time was had by all and we are looking forward to more masterclasses in 2019!