University of Delaware STAR Campus to Host AURP 2023 International Conference
A Hub of Innovation, Research and Collaboration: Join Us in Exploring Global Trends in Entrepreneurship and Economic Development
Tucson, Arizona, October 10, 2023 - The University of Delaware's (UD) Science, Technology and Advanced Research Campus (STAR Campus) is set to take center stage as it hosts the AURP 2023 International Conference, October 16-19. This prestigious event will bring together leaders from research parks, innovation districts and technology hubs worldwide for high-impact knowledge exchange and networking opportunities.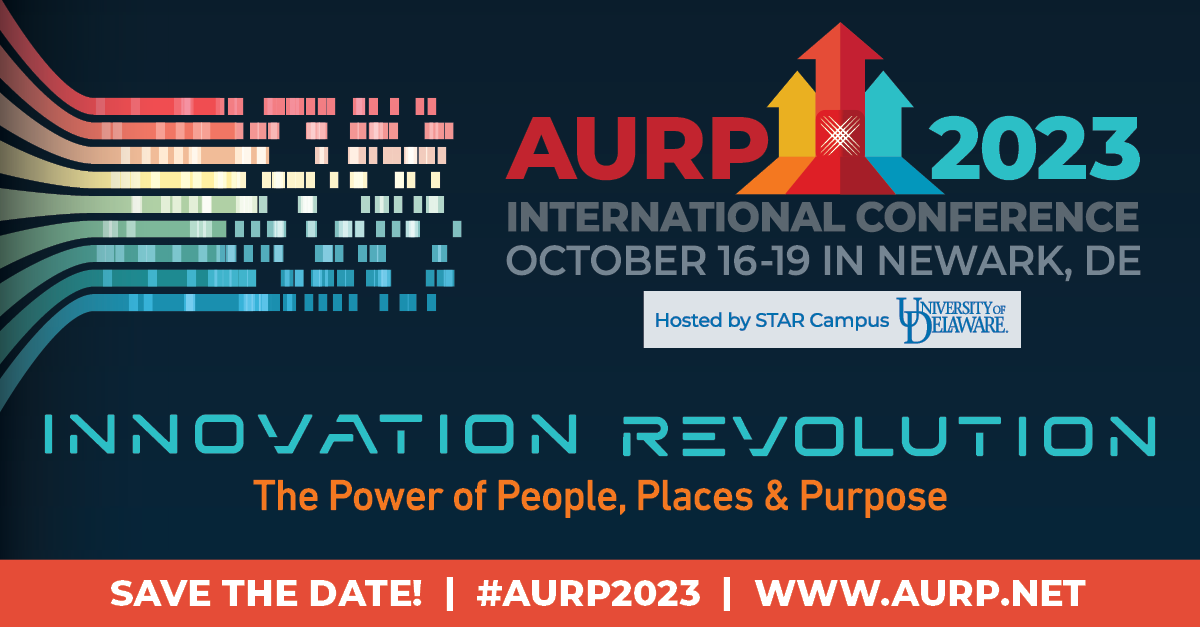 This year's conference promises to be a hub of innovation, academic excellence, community engagement and economic development. STAR Campus is renowned for combining cutting-edge research with industry and community partnerships, transforming new knowledge into positive global impact.
"AURP is looking forward to bringing innovation experts from around the world to STAR Campus to experience in-person the powerful revitalization of this community from Chrysler automotive plant to innovation powerhouse, impacting the region to economic and innovation prosperity," said Vickie Palmer, CEO of AURP. "Our member university research parks, innovation districts and tech hubs are the drivers of accelerating economic and innovation advancements. These communities of innovation house thousands of companies and talent working on commercializing critical technologies in life sciences, fintech, space and quantum computing."
The Tower at STAR, recognized as one of the nation's "amazing university buildings" by USA Today, exemplifies STAR Campus's commitment to inspiring partnerships across campus, within the community and around the world. The University of Delaware's health science clinics at STAR, including the Physical Therapy Clinic, Nurse Managed Care Center and Speech-Language-Hearing Clinic, serve as vital resources, providing over 30,000 patient visits annually from the surrounding community and region.
UD also plays a pivotal role as the global research and development center for vehicle-to-grid (V2G) technology, enabling electric cars to contribute energy back to the power grid and balance the energy supply as renewable sources like wind and solar continue to grow. In addition, UD's Ammon Pinizzotto Biopharmaceutical Innovation Center is at the forefront of revolutionizing healthcare by accelerating the safe and efficient production of biopharmaceuticals, which are medicines produced from living cells.
UD, as a Carnegie R1 university, ranks among the top 3% of U.S. universities, exemplifying its relentless pursuit of excellence and impact. UD's groundbreaking discoveries have far-reaching impacts, from touch-screen technology to the Mars spacesuit. With a rich history that includes signatories of the Declaration of Independence and the U.S. Constitution, Nobel laureates, and a diverse community of innovators and thought leaders, UD continues to push the boundaries of knowledge and innovation.
AURP's International Conference Host Committee is co-chaired by former AURP President, Mike Bowman, Chairman and CEO of Delaware Technology Park, and Tracy Shickel, Associate Vice President of Corporate Engagement with the University of Delaware.
Join us at the AURP 2023 International Conference (Oct. 16-19) hosted at the University of Delaware STAR Campus and be part of a global conversation on innovation, entrepreneurship and economic development. For more information, please visit: https://international.aurp.net/
AURP is pleased to announce the Sponsoring Organizations of its 2023 International Conference: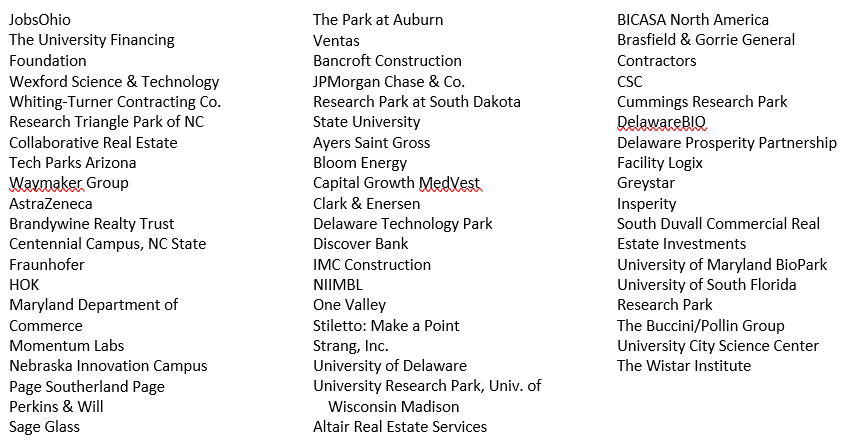 About AURP:
AURP, a non-profit international organization, with offices in the Washington, DC area at the University of Maryland Discovery District and in Tucson, Arizona at the University of Arizona Tech Park, focuses on creating communities of innovation and education for research parks, both operating and planned, plus innovation districts, incubators, accelerators and the businesses that support the research park industry. AURP and its global membership promote research, institute-industry relations and innovation districts to foster innovation and to facilitate the transfer of technology from such institutions to the private sector. Learn more: www.aurp.net