AURP Releases White Paper on History of Research Parks / Innovation Districts and Relevance to CHIPS and Science Act of 2022 
The CHIPS and Science Act authorizes $174 billion in unprecedented funding support in regions across the U.S. for science and tech-based R&D and commercialization
Tucson, AZ, and College Park, MD, September 7, 2023 – With a robust array of new federal policies supporting innovation and tech-based economic development, expanding the impact and reach of university-based research parks and innovation districts across the U.S. is vital in fueling the nation's economic growth and global competitiveness, according to a new white paper from AURP.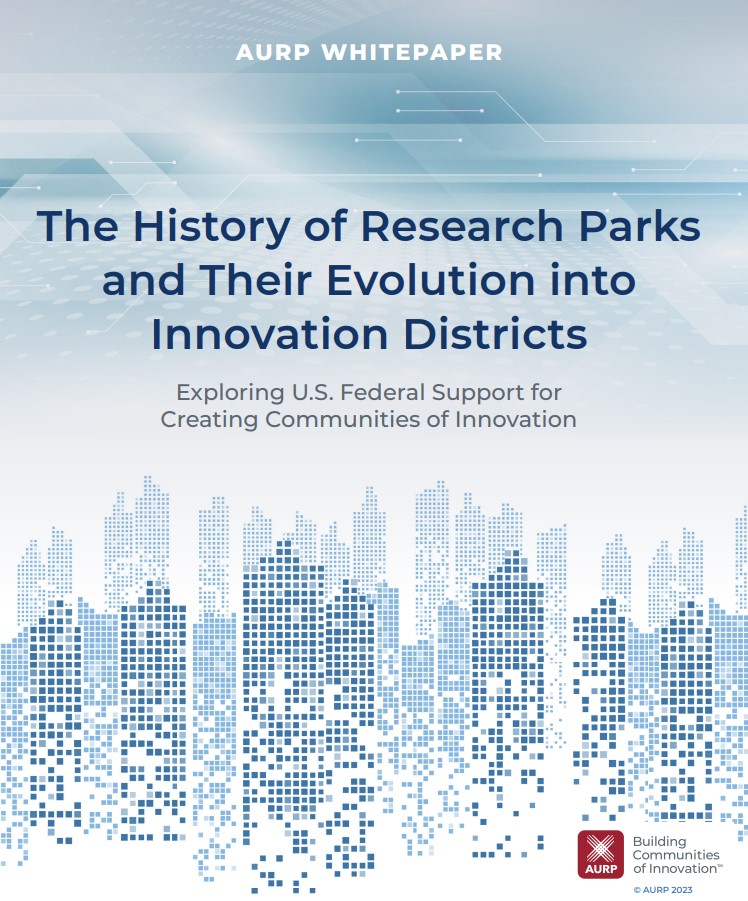 AURP's white paper, The History of Research Parks and Their Evolution into Innovation Districts: Exploring U.S. Federal Support for Creating Communities of Innovation, notes the history of development of research parks begins with Stanford Research Park, founded in 1951. Since that time, the research park model has spread across the U.S. and then globally as more communities devoted resources into research parks and innovation districts sponsored by universities, government labs, hospital systems and cities, often with support from national governments.
With passage last year of the $174 billion CHIPS and Science Act, this new white paper from AURP – a global nonprofit membership association serving university and institutional research park communities and innovation districts – states the U.S. government signaled its interest in helping local communities build new regional technology hubs and related investments in advanced technologies critical to U.S. competitiveness.
"Research parks, innovation districts and tech hubs are critical drivers of university-based inventions, high-wage job creation and regional economic vitality," says Vickie Palmer, Chief Executive Officer of AURP. "Our new AURP white paper illustrates the long track record of university-based research and entrepreneurship in building communities of innovation across the U.S. Yet we can't rest on our laurels. The CHIPS and Science Act with full funding would go a long way toward generating dynamic economic growth in every region across the country."
The white paper, prepared by Brian Darmody, AURP Chief Strategy Officer, showcases a dynamic range of ways organizations and institutions – such as research parks, innovation districts, businesses, universities, federal labs, states, regions and local communities – engaged in science and technology-based economic development can leverage the unprecedented amount of federal grant funding authorized in the CHIPS and Science Act.
This AURP white paper supplements an earlier AURP report (December 2022), The Geography of Technology, Science, and Innovation Under the CHIPS and Science Act, that reviewed the Science portion of the Act, which includes $174 billion in authorized spending over the next five years for investments in science, technology, engineering and math programs, workforce development and R&D in specific regions in the U.S.
While research parks and innovation districts in other parts of the world have traditionally been supported by government sources, research parks in the U.S. typically have been built by universities, the private sector, and with local and state resources.
More recently, the U.S. government – through its interest in use-inspired research; spurring economic development across the entire US; increasing the nation's competitiveness; and involving more underserved higher education institutions – is playing a more engaged role in catalyzing the growth of research parks and regional tech hubs across all regions of the U.S. 
AURP's white paper asserts the record for past Congressional appropriations for related programs is a cause for concern, such as with the America COMPETES Act of 2007, in which the shortfall between the authorized funding level in that Act and the funding appropriated was $77 billion.
AURP's Brian Darmody will discuss this white paper and related topics at the State Science and Technology Institute (SSTI) 2023 Annual Conference in Atlanta (September 6-8) to be followed by additional discussion at the AURP 2023 International Conference at the University of Delaware STAR Campus (October 16-19).
Download AURP's white paper here.
About AURP:
AURP, a non-profit international organization with offices in the Washington, DC area at the University of Maryland Discovery District and in Tucson, AZ at the University of Arizona Tech Park, focuses on creating communities of innovation and education for research parks both operating and planned, plus innovation districts, incubators, accelerators and the businesses that support the research park industry. AURP and its global membership promote research, institute-industry relations and innovation districts to foster innovation and to facilitate the transfer of technology from such institutions to the private sector. Learn more: aurp.net
Media Contact:
Ken Berlack
AURP
[email protected]